SECTION THREE Magazines, Fanzines & various other tidbits
Well over a 1000 magazines are cluttering up the Farm & will slowly be posted here; they range from xeroxed 70s fanzines to glossy 00s proper mags & are mostly in great shape too. I won't grade them, rather you can assume that they're 'used but nice' unless I mention anything else; latter-day mags often have a price tag on them. In case it originally came with a flexi, 45 or cd it won't be there anymore, unless otherwise noted. If you have any questions, need further info on condition or contents, please get in touch; likewise, if you're after something specific, feel free to ask.
MINIMUM ORDER $10!
New titles added on December 14, 2015 (sorry for being so slow on these!)
50% OFF ALL TITLES BELOW!

***Want to know when these pages change? Send an email to jens [at] beautifullies [dot] se & I'll add you to the mailing list.***

ACTION PLUS! Vol1. No. 2 May 1984 SEK 40 / $6
Zombies, Roulettes, Unit 4+2, Hollies, Rock 'N Roll Television: Tom Jones Show.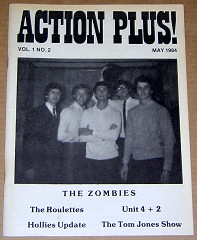 AVANT #19 Summer 2001 SEK 5 / $1 Same for all issues below
Thomas Widerberg, Music For Theremin, Bill Frisell, Gateway Studios, Paul Motian, Ornette Coleman.
AVANT #20 Autumn 2001
Ferdinand Försch, Terje Isungset, Indo Jazz Fusions, Lol Coxhill, Billy Higgins.
AVANT #21 Spring 2002
Steve Martland, Delta Saxophone Quartet, Lawrence Casserley, Norwegian Music, Akio Suzuki.
AVANT #22 Summer 2002
DHA, Hugh Davies, Ferdinand Försch, Cecil Taylor, Mike Westbrook, Peter Jacobsen, Rune Grammafon, ECM: Rarum Series.

BLUES WORLD Booklet No.1 4th Edition May, 1969 SEK 80 / $12
Robert Johnson special: 28 pages with article by Bob Groom, lyrics, discography.
BOMP! #17 SEK 50 / $8 Same for all issues below
'England's Screaming - A Special Cloese-Up On The British Punk Explosion', Blondie, Dictators, Iggy Pop a o.

BOMP! #21
Talking Heads, Greg Kihn, 'New Stars For '79' a o.
BROADSIDE #93 July/August 1968 SEK 100 / $15
Bob Dylan: What his songs really say - interview with Alan Weberman ('who finds in [the songs] the radical militant continuing to protest The Establishment''), plus songs by Arlo Guthrie, Bruce Phillips, Pablo Neruda, Jan Davidson.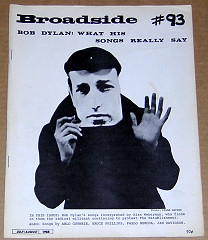 THE BROKEN FACE 16 April 2002 SOLD
Ya Ho Wa 13, Avarus, Time Lag Records, Steffen Basho Junghans, Major Stars, Sunburned Hand Of The Man & more.
THE BROKEN FACE 17 September 2003 SOLD
Chris Thompson, Sandoz Lab Technicians, Devendra Banhart, Tim Barnes, Reynols, Birchville Cat Motel & more.
THE BROKEN FACE 18 December 2003 SOLD
Simon Wickham-Smith, Steven R. Smith, Ponys, Michael Gira, Crevice & more.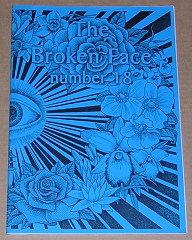 BUCKETFULL OF BRAINS #15 SEK 30 / $5 Same for all issues below
The Church, Dream Syndicate, Playmates, Shoutless, Chesterfiel Kings, Lyres, Italian Psych.
BUCKETFULL OF BRAINS #16
Lets Active, Plasticland, Miracle Legion, Gian Sand, Moffs, Stems, Dumptruck, Green Telescope, Dogs.
BUCKETFULL OF BRAINS #18
Peter Case, Watermelon Men, Flamin' Groovies, Gian Sand, Nick Haeffner, Twink, Fortunate Sons.

BUCKETFULL OF BRAINS #23
Soft Boys, Lyres, Rain Parade, Waves, Sting-rays, Wayne Kramer, R.E.M., Plimsouls, Clay Allison, True West, Milkshakes, Motor Boys Botor.

DARK STAR #1 SOLD
Grateful Dead, Youngbloods, Roger McGuinn, Neil Young a o. Looks like someone used a scissor to cut off a really tiny right-hand strip(?!)... not much, but I mention it anyway.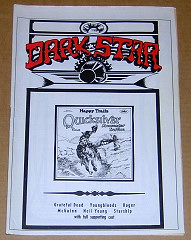 DARK STAR #2 SOLD
Grateful Dead, Great Society, Country Joe a o. Same odd cutting as above... they didn't come like this, did they?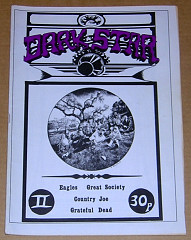 DARK STAR #15 SEK 60 / $9 Same for all issues below
Spirit, Byrds, Muddy Waters, Grunt Records a o.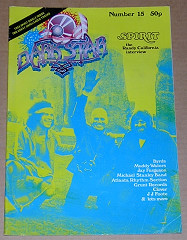 DARK STAR #16
Tubes, Tom Petty, Ian Matthews, Big Star, Clover, David Freiberg a o.
DARK STAR #17
Paul Kantner, Grateful Dead, Mamas & Papas, Barefoot Jerry, Spirit, Plainsong, Richie Furay a o.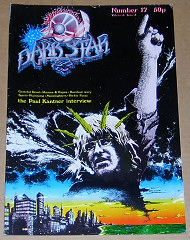 DARK STAR #18
Steve Miller, Paul Kantner cont'd, Doors, Richard Thompson, Ian Matthews a o.
DARK STAR #19
Grateful Dead, Terry & The Pirates, Ray Manzarek, International Artists a o.
DARK STAR #20
McGuinn, Clark & Hillman, Cheap Trick, Nick Drake, Raspberries a o.
DARK STAR #23
Nils Lofgren, Happy Traum, Robert Hunter, Commander Cody, Joe Ely/Butch Hancock a o.
DARK STAR #24
Grace Slick, Motels, Muddy Waters, Commander Cody, Robert Hunter a o.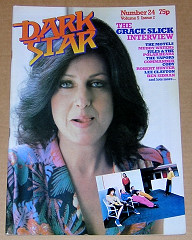 DARK STAR #25
Terry Jones, Grace Slick cont'd, Michelle Phillips, Robert Hunter a o.
DARK STAR #26
Teardrop Explodes, Grace Slick cont'd, Byrds/Crosby, Boz Scaggs a o. Front cover actually says #23...

EXPOSÉ No. 18 November 1999 SEK 30 / $5 Same for all issues below
Michael Stearns, Earthworks, Steve Hahn, Progfest '99, NEARfest '99.
EXPOSÉ No. 19 May 2000
Porcupine Tree (separate interviews with Steven Wilson & Richard Barbieri), Garden Of Delights, Robert Rich.

FOLK ROOTS #28 SEK 20 / $3 Same for all issues below
Thomas Mapfumo, Eric Bogle, Champion Doug Vetch a o.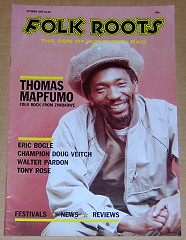 FOLK ROOTS # 29
Paul Brady, Mosaic, Philip Chevron, Lash Lariat & The Long Riders a o
NEW! HARTBEAT! No. 1/84 SEK 50 / $6 Same price for all issues below
Droogs, Rain Parade, Dave Clark Five, Nomads, Problem a o.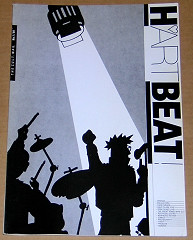 NEW! HARTBEAT! No. 5/87
Brainiac Five, Paul Roland, Shiny Gnomes, Vietnam Veterans a o.
NEW! HARTBEAT! No. 6/87
Hollies, Radio Birdman, Pink Fairies/TWink, Fuzztones a o.
NEW! HARTBEAT! No. 7/88
Shamen, Twink, Chesterfield Kings, Mock Turtles a o.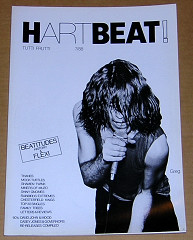 NEW! HARTBEAT! No. 8/88
Slickee Boys, Infidels, Paul Roland, Black Sun Ensemble, Marshmellow Overcoat a o.

NEW! HARTBEAT! No. 14/92
Townes Van Zandt, Ali Farka Toure, Big Star, Albert Ayler a o.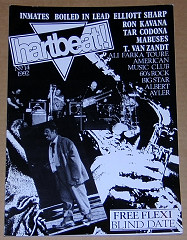 NEW! HARTBEAT! No. 16/93
New Bomb Turks, Plan 9, John Trudell, Otis Redding, Man or Astro-Man a o.
NEW! HARTBEAT! Autumn/Winter 1994
Ornette Coleman, Treatment, Steve Wynn, Nomads, Captain Sensible a o.
NEW! HARTBEAT! No. 18 Summer/AUtumn 1995
Wayne Kramer, Mooseheart Faith, Alisha Sufit, Donovan, Mystic Tide a o.
NW! HARTBEAT! No. 19 1996?
Link Wray, Ed Kuepper, Fleshtones, 20-page power pop-special a o.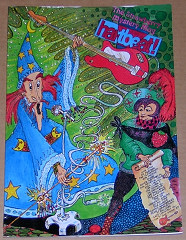 HORS D'OEUVRES The Roy Harper Magazine #5 Winter 1985/6 SEK 60 / $9
Folkjokeopus, The Prisoner, HQ, Al Stewart. Some slight bends & tweaks.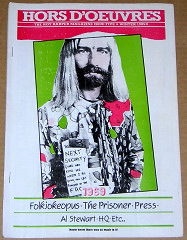 HOT WACKS #20/21 1980 SEK 60 / $9
Cryan' Shames, Lene Lovich, Robert Hunter Interview, Terry Allen, Jennifer Warnes, Bob Segarini, Association.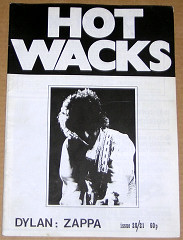 JOHN LENNON TRIBUTE SEK 60 / $9
84 pages tribute in the wake of his death - copyrighted 1980, so they wasted no time in getting this out. Small pricetag ofc & a bit of wear/tear at spine.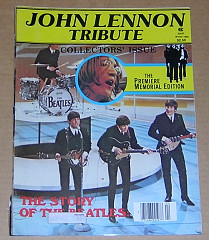 LEKTYR #44 November 1967 SEK 20 / $3

'For Men Mostly'... some cool colour shots, most notably of a Californian biker a la the movies of the time & a great half-page one of Zappa & chick. Not what it turned into later - topless centre-fold is as bad as it gets. Small wofc. Written in Swedish.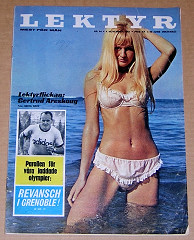 MOJO #49 December 1997 SEK 20 / $3
Same for all issues below Oasis, 100 Greatest Singles Of All Time, Led Zeppelin, Otis Redding, The Corrs, Black Sabbath.
MOJO #51 February 1998
Bob Dylan, Spiritualized, Cornershop - and half a page on the Insect Trust!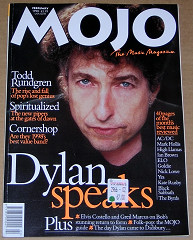 MOJO #53 April 1998
Eric Clapton, Badfinger, Bootsy Collins, Ani DiFranco, Lilys, Moog Music.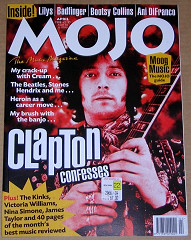 MOJO #54 May 1998
Who Killed Curt Cobain, Free, Page & Plant, Blues Special, Massive Attack, Pulp.
MOJO #55 June 1998
Peter Buck Interviews Brian Wilson, Sandy Denny, Bernard Butler, Eno, Live Photo Special.
MOJO #57 August 1998
American Gaints Issue (James Brown, Dr. John, Gene Clark, Joni Mitchell a o), Glastonury, Ian Dury, Ringo Starr.
MOJO #59 October 1998
100 Greatest Singers Of All Time, Rory Gallagher.
MOJO #63 February 1999
Blondie, Velvet Underground, Nick Drake, The Beatles, Elvis.
MOJO #93 August 2001
100 Greatest Soul Albums, Sly Stone, Booker T, Temptations, Gil Scott-Heron.
MOJO #158 January 2007
Bob Dylan, Robert Plant, The 170 Albums Of 2006, Arcade Fire, Brian Wilson.
MOJO #163 June 2007
100 Records That Changed The World, Roky Erickson, The Jam, Led Zeppelin, The Doors, The Band, The Good, The Bad & The Queen.
LOADS more Mojos to come!

OMAHA RAINBOW #7 SEK 80 / $12 Same for all issues below
Starry Eyed & Laughing, Craig Fuller, Flying Burrito Brothers, Gene Parsons.
OMAHA RAINBOW #9
Jimmy Buffett, John Stewart, Emory Gordy, Ian Matthews.
OMAHA RAINBOW #10
Hal Blaine, Hank de Vito, Doug Dillard, John Forsha.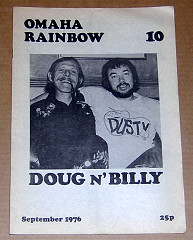 OMAHA RAINBOW's POCO SPECIAL
Very slightly dog-eared; real tiny tobc.